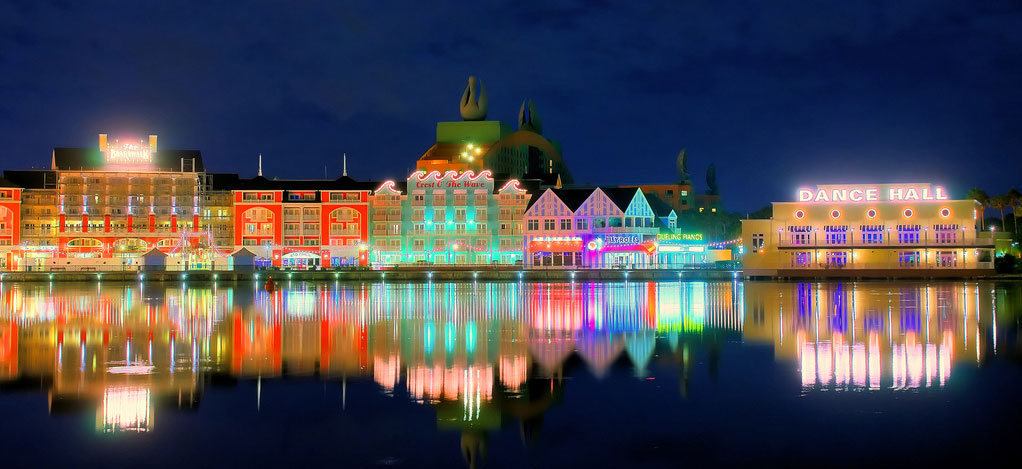 Looking to take a break from the parks but still have a fun evening? Why not head over to the Boardwalk Resort for a meal, shopping and some awesome entertainment?
Located near the back entrance of Epcot & just a short walk from Hollywood Studios is the Boardwalk Inn & Villas Resort. Designed to look like the Atlantic City boardwalk area, the resort is built on the edge of Crescent Lake. Most nights, there are magicians and jugglers performing right outside. These performances are really pretty awesome and completely free. The performers are great at engaging the crowd. Kids & adults will enjoy their antics. If you time it right, you can see the Illuminations fireworks at Epcot right there too.
There are other activities along the boardwalk for a fee. You can rent a surrey bike with 2-, 4- or 6 seats for a nice ride from the boardwalk, past the Yacht & Beach Clubs. It is so fun to watch families pedal up the small hills! There are carnival games to play, clubs like Jellyrolls or Atlantic Dance (cover charge often applies) or you stop for a meal at one of the restaurants (make advance reservations!). There are some pretty good ones, including the Flying Fish and the Big River Grille. Stop in the ESPN Club to catch a game, play arcade games or get a light meal. Don't miss the Boardwalk Bakery for yummy cupcakes or Seashore Sweets for fudge, caramel apples or saltwater taffy. Both places are pretty hard to resist!
For the full boardwalk experience, you can grab a funnel cake or hot dog to enjoy while you take in the sights. Looking to enjoy an adult beverage while you wander? The sangria at the pizza window is really good! Or stop at Boardwalk Joe's for a Margarita or a beer.
There are no direct buses to the Boardwalk from other resorts but it is easy to get to. You can either walk from Epcot or Hollywood Studios or hop on one of the Friendship boats. You can also get on a Boardwalk Resort bus from the Magic Kingdom, Animal Kingdom or Downtown Disney.