Everyone loves it when a new Disney resort opens at Walt Disney World, especially when it is as nice as Copper Creek Villas and Cabins, which is located at Disney's Wilderness Lodge. You might be saying, isn't there already a villa resort at the Wilderness Lodge? There is, so some explanation is needed here to clarify things.
First, there was Disney's Wilderness Lodge, which opened in 1995.
In 2000, Disney opened the Villas at Disney's Wilderness Lodge, a new wing of the lodge with all villas.
In 2016, Disney changed the name of the Villas at Wilderness Lodge to Boulder Ridge Villas at Disney's Wilderness Lodge.
Now, the new Copper Creek Villas at Cabins at Disney's Wilderness Lodge is scheduled to open in July, 2017. The Copper Creek Villas is actually one of the wings at the original Wilderness Lodge (the South one) that has been converted in to studios, 1, 2 and 3 bedroom villas plus 26 brand new 2 bedroom/2 bath waterfront cabins.
So, now that that is all clear, there are now three "resorts" at Disney's Wilderness Lodge.
Both Boulder Ridge Villas and Copper Creek Villas and Cabins are Disney Vacation Club Resorts (Disney's Timeshare) however they are also available to book with cash just like all the other DVC resorts (Saratoga Springs, Old Key West, etc.).
Copper Creek Villas & Cabins offers Disney Vacation Club Members and guests a new frontier for magical vacations where the comforts of home and the wonders of the wilderness are deeply rooted in the magic of Disney. Inspired by the legendary mining and railroad history of the Pacific Northwest, Members and guests will discover rustically elegant accommodations, where cozy touches mix with modern designs to create a tranquil retreat.
Offering one of the widest ranges of accommodations found at Walt Disney World Resort, Copper Creek Villas & Cabins will feature 184 modern, nature-inspired vacation homes, including Deluxe Studios, one- and two-bedroom Villas, and even three-bedroom Grand Villas, which sleep up to 12.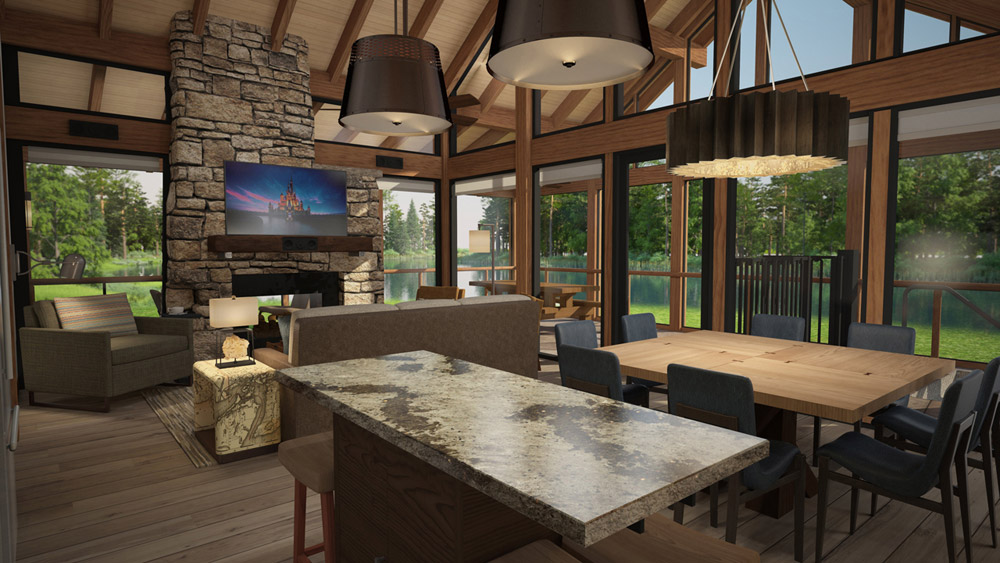 The new resort will also include 26 all-new luxurious waterfront cabins. Sleeping up to eight and featuring two bedrooms, two baths and large dining and living room spaces, the cabins' floor-to-ceiling windows, exposed wooden beams and interior-exterior stone-hearth fireplace bring the beauty of the outdoors in, and offer plenty of room for families. After a long day of fun at the nearby theme parks, guests can return to their porch and relax in the built-in hot tub. Some even enjoy a view of the Electrical Water Pageant on Bay Lake!
Beginning March 21, 2017, you can book Copper Creek Villas & Cabins as rentals when they are not in use by Disney Vacation Club Members. Please note there may be limited availability for the cabins.
Additional developments at Disney's Wilderness Lodge include the recently opened Geyser Point Bar & Grill, an open-air lounge overlooking Bay Lake. The resort's quick-service restaurant, Roaring Fork is also undergoing refurbishments and is scheduled to reopen later this year with a refreshed look and expanded outdoor seating. Boulder Ridge Cove pool, a modern-day swimmin' hole, will also open this summer.
Those in search of extra pampering will want to stop by the all-new Salon by the Springs for poolside manicures, pedicures and hair services scheduled to open this summer.
There is plenty going on at the Wilderness Lodge for sure, looks like a fantastic place to stay on an upcoming Disney vacation.