While this may not be my idea of the perfect wedding, for many people, the ability to be married in the Magic Kingdom in front of Cinderella's Castle is a dream come true. Until now, that required a bit of sneakery and  breaking of Disney rules. Disney Weddings has officially offered marriages on the platform of the Walt Disney World Railroad overlooking Main Street for some time, which is awesome, but not exactly what many guests wanted. If you can't have a Magic Kingdom wedding inside of Cinderella's Castle, you have to be married right in front of it don't you? Now you can choose to get married in the "East Plaza Garden", which is located right in front of The Plaza Restaurant, overlooking Cinderella's Castle. Look at the views!
Of course, as with all Disney Weddings, you can add on cool stuff as long as you are willing to pay. You can order the option of arriving in Cinderella's Coach, drawn by horses down Main Street and steered by bewigged, royal coachmen. Your can also have your groom be dropped off in a classic, turn-of-the-century Main Street Vehicle. And of course, you can have trumpeters herald your arrival. While this fairytale wedding will not guarantee all of your dreams will come true, it is a great start! Check out the photos!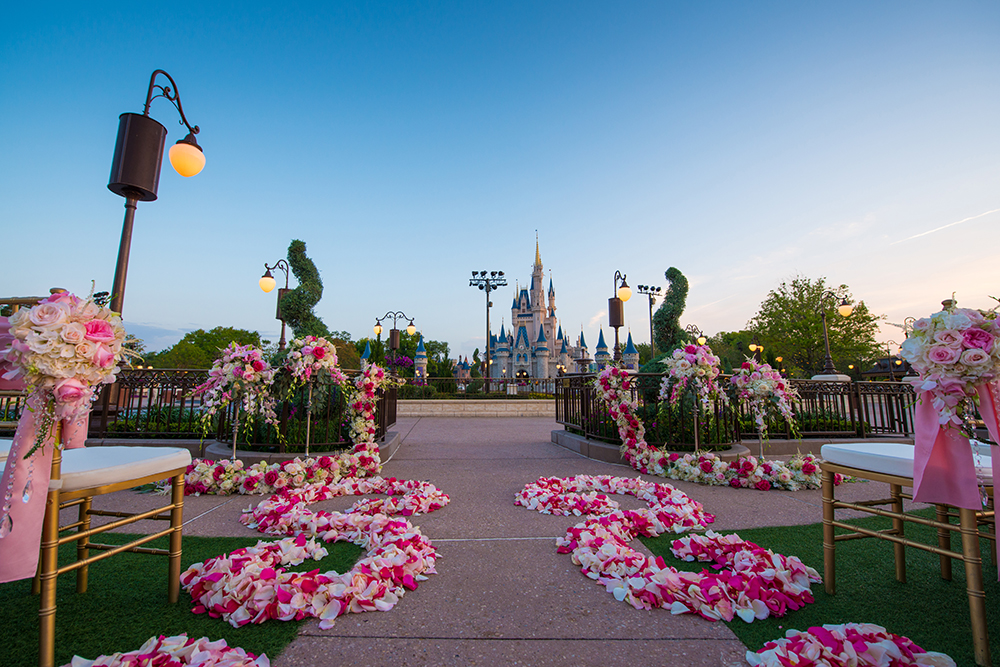 [embedyt] http://www.youtube.com/watch?v=gOxd-gnzYSk[/embedyt]
More information can be found on the Disney Weddings Website: Magic Kingdom East Garden Wedddings
Update: Walt Disney World has announced that they are now offering after hours nighttime weddings in addition to the previously announced early morning weddings. Wow!
[embedyt] http://www.youtube.com/watch?v=vS2U7mORhKQ[/embedyt]