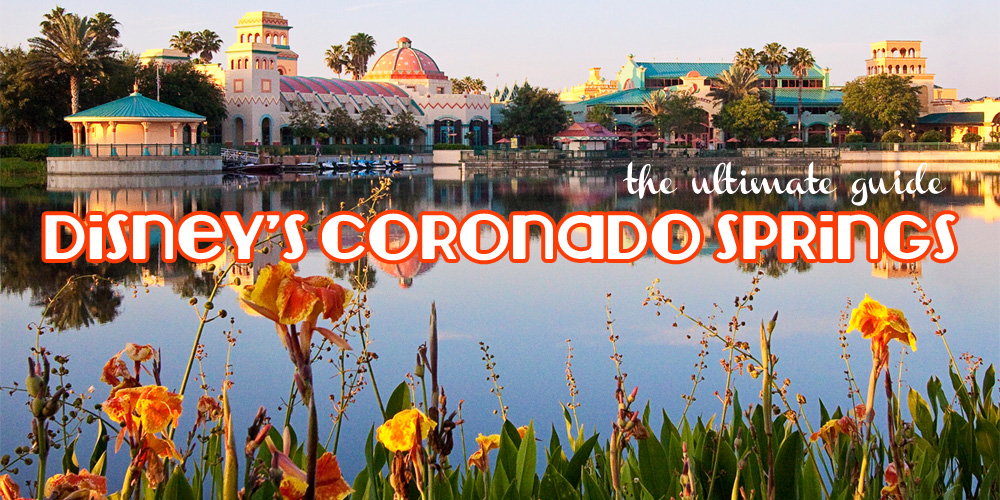 Disney's Coronado Springs Resort charmingly recreates Spanish Colonial Mexico around the palm-tree fringed Lago Dorado ("Golden Lake").
El Centro is the lobby complex, housing the gift shop, restaurants and also the convention center. The elaborate porte cochere at the entrance is beautifully themed in a pastel Southwestern palette. (Pause to look for a particularly fabulous, full-faced hidden Mickey high up on the massive wooden doors.) Inside awaits a charming, sunny foyer. Don't miss the beautiful mural painted on a domed ceiling over the splashing fountain. If you're a pin trader, look for pin boards and books in the lobby. The registration area is a long, high ceiled hall with mural-covered walls. The convention center, with ballroom and business center is highly decorative, making a good place to take some photos and explore.
The rooms are situated around the lake in three distinct sections: the Cabanas, Ranchos, and Casitas – each with its own quiet pool. The brightly painted cabanas are closest to the beach. Rooms facing the water like those in Cabanas building 9B are more expensive, but the view may make you feel that the extra money is well spent.  The rustic ranchos have touches of Pueblo Revival Style and the flavor of the Southwestern desert with a rocky stream flowing through cactus and other succulents. At the taller Casitas buildings, plazas and courtyards abound. Here you'll find topiary versions of the heroes from the animated Disney film, THE THREE CABALLEROS: Donald Duck, parrot José Carioca, and rooster Panchito Pistoles. You can visit a statue of their friend Burrito, a flying donkey, outside Panchitos Gifts and Sundries in El Centro.
Most of the nearly 2,000 rooms at Coronado Springs Resort have two queen beds, flat panel TVs, and a mini fridge. Like the other moderate resorts, there is a separate dressing area outside the bathroom. Unlike the other mods, Coronado Springs rooms feature only one sink rather than two. The dressing area has handsome sliding wood doors to provide privacy. The rooms are decorated in muted teal with dark wood headboards and soft uplighting. which make for a relaxing retreat.
The resort is somewhat sprawling, but you may find that the walk from your room to El Centro never seems far because the walkways are so beautifully landscaped.
The Dig Site is the center of recreation at Coronado Springs Resort. The theme is a site of Mayan ruins, dominated by a fifty-foot-tall Mayan pyramid. Streams of water tumble down its crumbling stone steps which are wrapped in thick jungle vines and flanked by giant stone serpent heads. A water slide with a spitting jaguar stands beside the temple, while a separate shallow kiddie pool with water spouts is nearby. The Mayans worshipped the sun, and you can, too — lounging beside the Lost City of Cibola pool (with a frosty Mojito Frambuesa and some nachos from Siesta Cantina pool bar). Or invite twenty-two of your best friends to join you catching rays in the largest hot tub on Disney property! More active recreation includes bike rentals and volleyball on a white-sand court near the Dig Site. You can borrow a volleyball from Siesta's pool bar with your resort ID.
The kids will be crazy about the most elaborately themed playground at Disney. They'll be walking in the footsteps of archaeologists (and Mayans!) as they brave their way up stairs guarded by a giant spider. The slide takes the form of a twisting serpent with fangs and horns. Kids can climb inside a massive opened-mouthed stone head wearing the headpiece of an ancient Mayan ballplayer. The adjacent Iguana Arcade has air hockey, pinball, and popular video games. The kids will work up a thirst for a memorable milk shake at the poolside Siesta Cantina, such as a Mango Frosty, Banana Split shake, Cotton Candy ice, Funky Monkey shake, or a Guava Lava!
The kids will reminisce for months about roasting marshmallows, lakeside, over a crackling fire in the evening. Complimentary Movies Under the Stars offers a different popular Disney film every evening after the campfire (weather permitting). Consult your recreation calendar to see which movies will be playing during your stay.
Since Coronado Springs hosts a convention center, it has more amenities than other moderate resorts, including Casa de Belleza hair salon and La Vida Health Club. Also thanks to the needs of convention goers, Coronado Springs has two table service restaurants as well as a quick service cafe and food court. The Maya Grill is their signature restaurant, in which guests are seated around the replica of a Mayan temple surrounded by Mesoamerican murals and dramatic ceremonial pillars and flickering torches. Stop to admire the fountain at the entrance to the temple which is themed after a Yucatanian cenote, a natural limestone pit exposing the swirling, underlying groundwater. Dinner is the only meal served at the Maya Grill, and you can enjoy it with a pitcher of sangria at a table overlooking the lake. The menu features both Mexican and Nuevo Latino dishes. A guest favorite is the sizzling fajita skillet with chicken or steak with sides of cilantro rice, esquites, and warm flour tortillas. Other specialties include tequila-glazed salmon and pan roasted Cornish hen with Madera sauce. Don't forget that the Mayans invented chocolate – save room for dessert! Chocolate Abuelita Panna Cotta is made with spiced Mexican chocolate, topped with crème anglaise, chantilly, chipotle brittle, and berries. Another dessert strategy would be Maya Grill's dessert shots. For $15, you can have one "shot" each of Key Lime, Cappuccino Dulce de Leche, Chocolate Mud Pie, Peanut Butter Parfait, and Gran Marnier Berries n' Cream. If moderation prevails, choose just one or two dessert shots at $3 each!
You can find table service for breakfast and lunch (as well as dinner) at the elegant Las Ventanas ("The Windows"). The high chair backs and lighting fixtures are made of wicker in a room painted in warm shades of orange, gold, and black. The breakfast menu offers up ancient grain pancakes, sourdough French toast, and their popular chorizo skillet. At lunch, you can choose from a wide array of sandwiches, from gourmet grilled cheese to Mahi or French Dip. Dinner is moderately priced (by Disney standards) and features entrees such as herb-marinated chicken breast or seared pork loin medallions. Chambord Mascarpone is a refreshing dessert.
The Pepper Market is a unique food court, themed like an outdoor marketplace with strands of glowing lights looped overhead. There are seven food stations (and a coffee bar) offering a wide variety of Mexican and American menu choices. Chairs are painted in cheerful shades, tables are topped with bright umbrellas, and a towering Central American spirit animal, a chicken god (or possibly goddess), looms colorfully over all.
The Rix Cafe is a counter service location with pastries, salads, and desserts, including gelato. Smoothies are something of a specialty here with Florida Sunshine, Banana Split, or Strawberry Pineapple among the choices.
A mile-long jogging trail circles Lake Dorado. A sunrise or sunset run or walk will be one you won't soon forget. At night, the lights of El Centro sparkle across the lake. Wind up the day in a relaxing hammock under the palm trees and let your worries drift away on the golden waves of Lago Dorado.
Have you ever stayed at Disney's Coronado Springs?