Location, location, location!
Fort Wilderness is an enviable ten-minute boat ride from the turnstiles of the Magic Kingdom. Boat transportation to the Contemporary and Wilderness Lodge resorts (where dining ADRs may await you) is also available. It's an easy drive from Fort Wilderness to the Magic Kingdom and its resorts, including the Polynesian and Grand Floridian. You could consider Fort Wilderness a Magic Kingdom resort, without the deluxe room rates.
Signature Dinner Show
Guests from other Disney resorts flock to Pioneer Hall at Fort Wilderness to see the Hoop-Dee-Doo Musical Revue — but it will be right in your backyard as a campground guest. (Be sure to book well in advance!) The Hoop-Dee-Doo, performed three times a night, seven days a week, is one of the most popular dinner shows at Disney World. Vaudeville meets the Wild, Wild West in this rip-roaring two hours of song, dance, and pun. The Pioneer Hall Players, Claire de Lune, Johnny Ringo, Dolly Drew, Six Bits Slocum, Flora Long, and Jim Handy, will keep your feet tapping, your hands clapping, and your ribs tickled. Your tummy will be happy, too. Fried chicken, barbecued pork ribs, and country-style baked beans are served in metal kettles which arrive on your table with a bang. The Strawberry Shortcake dance number has all the servers (carrying big trays of your dessert!) up on stage in a kick line. Unlimited draft beer, wine, and sangria are included (proper ID required).
Home Away from Home
If you're a camping enthusiast, you may feel that you've scored the best of both worlds when you bring your tent or camper to Fort Wilderness. You'll have all the comforts of home right in the middle of Disney. If you're not a camper, you'll choose a roomy cabin when you stay at Fort Wilderness. You'll love the well equipped kitchen with its full-sized fridge, stove, and a dishwasher – it comes with everything, including (of course) the kitchen sink! You can make dinner on the grill on your own wooden deck and serve it on your own picnic table (pack a checkered table cloth to make it festive!). Disney will even stock your larder for you, if you want your groceries there when you arrive. You can print out a preselected list of provisions at home and call in your choices ahead of time. Pick up your own frozen cookie dough (it's not on the preorder list!) if you want to serve hot cookies to your crew when they return from the pool! You get the ambiance of the wilderness, with a pine forest outside your window, but all the air conditioning of home. The cabins are the perfect combination of the great outdoors and the great indoors with rough-hewn furnishings and decor that are similar to the Wilderness Lodge.
There are over 400 cabins at Fort Wilderness, located on eight loops throughout the property. Meanwhile, there are almost 800 campsites on 20 loops, most including their own "comfort station" with restrooms, private showers, and laundry facilities.
Community
One of the nicest things about Fort Wilderness won't cost you a thing – its sense of community. At Halloween and Christmas time, campers and cabin dwellers decorate as much as if they were at home with inflatable holiday figures, strings of lights (Disney supplies extension ladders to help campers decorate!), and wreaths with a site decorating contest to choose the best. You can watch a grand parade of decorated golf carts (often with clever Disney themes) at both Halloween and Christmas as well as on the Fourth of July. Friends gather around nightly campfires sing-alongs with Chip and Dale. Guests often come back at the same time each year, so they may become friendly with the neighbors who also come back during "their" week. All this contributes to a unique sense of "neighborhood" that you won't find at any other Disney resort.
Campground Transportation
There's no parking lot at the Settlement Trading Post or Pioneer Hall, so an internal bus system will transport you from your cabin or campsite to the shops, restaurants, and beach/marina area. You can also rent a golf cart to zip around Fort Wilderness.
Easy on the Budget
Fort Wilderness accommodations offer the lowest price tag on property. Even the premium campsites with all the bells and whistles are under $100 a night. (Some sites are considered preferred based on their more advantageous locations, and are more expensive than others.) A pop-up camp site is about $50, and Disney will rent you a tent for about $30 more. The wilderness cabins sleep up to six guests, which means you can avoid booking two rooms at a traditional resort if you have a larger party. Depending on rates that vary seasonally, this can represent a substantial savings. The full kitchen will allow your family to eat much more economically, too.
Fido and Spot!
Your furry family members can join the rest of the clan at Disney World! Fort Wilderness is the only pet-friendly Disney resort, and it even has an off-leash Waggin' Trails Dog Park for canine recreation. So that human guests can go off and enjoy the theme parks, Disney reminds pet owners that day and overnight kennel care is available at Best Friends Pet Care (a very easy drive from Fort Wilderness).\
Dining and Recreation
Mickey's Backyard BBQ and Trail's End buffet both offer memorable, delicious, and filling meals in the rustic atmosphere that defines Fort Wilderness while there's a rocking chair (and a Jameson Irish Coffee) with your name on it on the porch at Crockett's Tavern.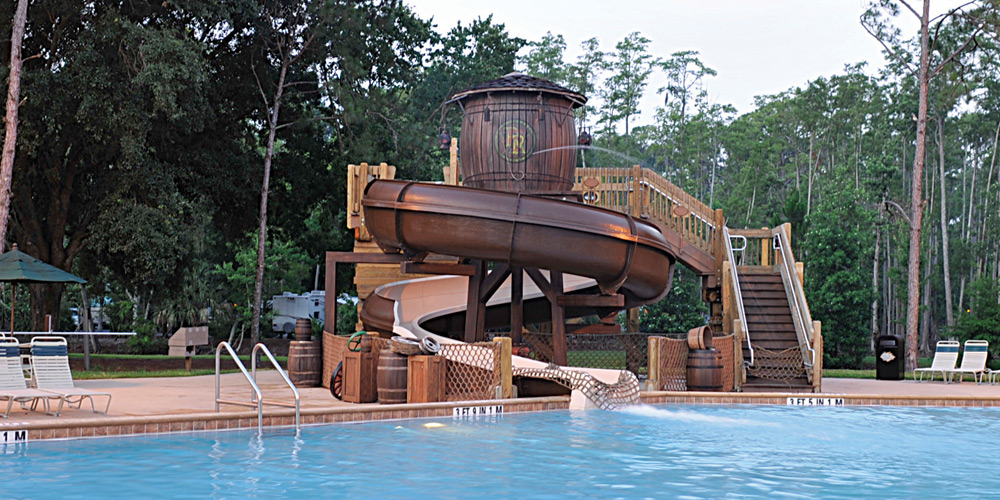 The Meadow Swimmin' Pool has a popular corkscrew waterslide and a relaxing whirlpool spa. A fort-themed water play area will be a hit with the little ones. Fort Wilderness is the only resort where you can enjoy both archery and tennis, then rent a canoe (the local wildlife includes alligators — so it may be a real adventure!). You can also rent a bike at the Bike Barn and go horseback riding at the Tri-Circle-D Ranch. There are wagon rides, campfires, fishing, volleyball, horseshoes, and shuffle board. There's a white sand beach from which you can watch your family enjoy water skiing, wake boarding, and parasailing. You're not too old to get out there yourself! Though if you'd prefer a less athletic activity, the Fort Wilderness Marina rents pontoons and Sea Raycers. To top off your day, the Electrical Water Pageant comes by every night at 9:45 p.m. You could have a fantastic visit to Walt Disney World and never leave Fort Wilderness!
Have you ever stayed at Disney's Fort Wilderness?