Disney's Caribbean Beach is an exotic tropical bouquet of a resort.  After being welcomed at the front gate (sometimes they say, "Welcome to Paradise"), your first stop will be the nearby Custom House; later you'll venture deeper into the resort to the central food court building, as well as to your island home (resort room).  Caribbean Beach Resort (or CBR as its friends call it) is unique among Disney resorts due to its separate building for the front desk.  The segmented stages make your arrival more of an event.  Who wants to rush a Disney resort arrival — it's the best part of the trip!  The Custom House, with a ceilingful of waving fans, has the noisy echoes you'd expect in a custom house, as well as the contagious Calypso rhythms of steel drum music.  Welcome to the Islands, Mon!  The music continues at Old Port Royale (aka Centertown) which houses the large food court, gift shop, and arcade (Goombay Games).  Barefoot Bay is the centerpiece of CBR – a forty-five acre, palm-tree-fringed, white sand paradise.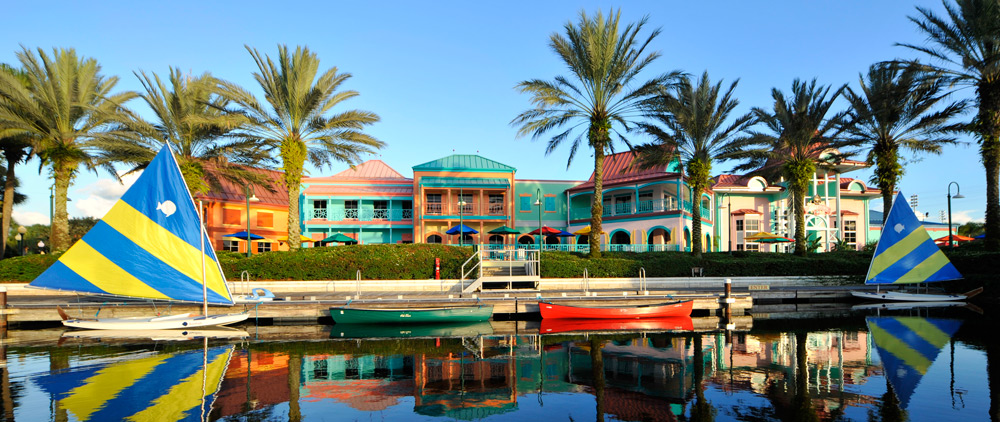 CBR comprises six "villages," each with colonial-style buildings painted in a festive medley of Caribbean colors.  The Jamaica section is banana yellow and blue; Trinidad North and South are salmon pink with turquoise; Martinique is sky blue with coral; Aruba is shell pink with passion fruit; and Barbados is pink lemonade with aqua.  (Plan your coordinating outfits accordingly!)  All the sections have buildings facing Barefoot Bay.  And each section has its own quiet pool.  The resort is pretty spread out, with the farthest buildings being as much as a 15 minute walk away from Old Port Royale.  But Disney has provided options.  The "Spirit of the Islands" boat launches sail from Trinidad South Beach to Old Port Royale.  There's also an internal bus service to run hungry guests to and from the food court.
The rooms at CBR have all been elegantly refurbished.  They now have queen size beds and handsome sliding wooden doors in the place of the old privacy curtains separating the bathroom area, and most rooms now have a fold-out bed to accommodate a fifth guest.  Kids (and adults) will smile when they see the image revealed when the bed is folded down — there's Mickey, asleep in a hammock!  Popular pirate rooms can be found at Trinidad South.  Who can resist the chance to sleep aboard a pirate ship bed and get a cold drink from a fridge housed in a giant keg?  (Keep in mind that the pirate rooms can only accommodate parties of four guests.)
With a zero entry and two hot tubs, the CBR feature pool is called Fuentes del Morro.  Its weathered walls and battlements were inspired by the old Spanish fortress, Morro Castle, in Havana.  The "fuentes" (fountains) take the form of water spewing cannons.  Climb a spiral staircase to reach the tallest turret and an 80-foot-long trip down a water slide.  Watch out for the water cannon!  Pool parties are held every afternoon for both the Disney Junior set and the bigger kids.  A water play area (with three slides) is a beached pirate ship with a massive barrel suspended from the deck, perpetually filling and dumping on the little buccaneers below.
Barefoot Bay provides more landscaped shoreline than any other resort, and Disney provides a wide array of recreation to help guests enjoy it.  From a pleasure as simple as selecting a comfortable hammock for an afternoon nap to booking a pontoon to search out largemouth bass, Barefoot Bay has a lot to offer.
Caribbean Cay is the island in the middle of the bay, reached by footbridge, and lying along the route from Old Port Royale to Aruba and Jamaica.  Here you'll find a lush nature trail, a playground, secluded hammocks, and bench swings on the sand.
At under $10 an hour (or less than $20 a day), a bike rental is one of the relative bargains at Disney World.  (Helmets and child seats are complimentary.)  Bikes are especially fun at Caribbean Beach because the promenade around Barefoot Bay makes such a lovely route (don't miss the bird houses along the way).  Surrey bikes seating two or four riders are also available.
Islands of the Caribbean Pirate Cruise will reveal the murky history of Old Port Royale to children 4 to 12 on a treasure hunt across the "seas" of Barefoot Bay with Captain Calico Jack.  The Pirate Cruise takes place Sunday, Tuesday, and Friday mornings from 9:30 to 11:30 AM.  The kids, rigged in pirate bandanas, will follow clues to a treasure chest and wind up the adventure with a small snack and drink.  The cruise departs from the Barefoot Bay Bike Works.
If the kids want to continue to get their pirate on, CBR offers Pirate Camp for further adventuring.  This takes place Monday, Wednesday, and Saturday evenings (allowing the parents a leisurely meal at Shutters).  Pirate training, activities, and crafts – and dinner – keep the kids busy from 5:00 to 7:00 PM.   
Marshmallow roasts are complimentary every evening at the Caribbean Campfire on Martinique Beach.  After the campfire, a Movie Under the Stars will begin – a different film every night.  Consult the Recreation Calendar for details when you arrive.  As always, entertainment is subject to cancellation in case of bad weather.
You can book a guided catch-and-release excursion for up to five guests on a 21-foot pontoon boat to get up close and personal with the largemouth bass in Barefoot Bay.  Another option is Bass Nitro Fishing on a tournament-style boat for up to two guests.  Outings are for two or four hours.  Rod and reel, tackle, bait, and a knowledgeable guide are included.  You can also fish dockside with fishing gear rented from the Bike Works.  Note that all fishing at Walt Disney World is restricted to catch-and-release.
Volleyball courts wait invitingly beachside at Martinique Village.  (Volleyballs are available at the Marina – be sure to bring your Magic band or resort ID.)  Check the recreation guide for a variety of tropical fun, including dancing cast members on Martinique Beach every morning, limbo at a Goombay Dance Party in Old Port Royale every evening, food challenges, beach games, slide races, and more!
Shutters, the table service restaurant at CBR, brings the island flavors to dinner (which is the only meal served here).  The green-shuttered dining room features an open kitchen and upbeat atmosphere.  Their pan-Caribbean menu combines influences with European, Asian, African, and (naturally) Caribbean roots to create a unique cuisine.
Crisscrossed with overhanging lanterns and lined with two story "shop fronts," the Old Port Royale food court serves up a lot of atmosphere and a lot of choices at its quick service counters.  Don't miss the Grab-n-Go – they have one of the best bakeries on property, not excepting the luxury resorts.
A great way to end a day at Caribbean Beach is to watch Epcot's Illuminations sparkling over the rooftops of the Aruba buildings across Barefoot Bay!
Why do you love Disney's Caribbean Beach Resort?