Visiting Walt Disney World, or anywhere, may not be for everyone in 2021. That decision should be left up to you and your family. All of those reasons are valid for you, but there are plenty of reasons to visit Walt Disney World in 2021, and we give you 21 of them. Get it? 21 for 2021? Aren't we clever?
#1 – Because, 2020
Let's face it, 2020 was a catastrophe, a train wreck, a dumpster fire, a cherry bomb in an outhouse type of year. I think we are universally glad that 2020 is officially gone. With stay at home, school at home and work at home, we are all sick of our homes. We could all use a break.
2020 was not kind to Disney either, with Walt Disney World closed or severely restricted during most of the year, and Disneyland and Disney Cruise Line closed since last March, without any kind of reopening plans or schedule.
2021 is going to be better than 2020!
#2 – Health and Safety Measures
The Walt Disney Company has spent over $1 BILLION dollars on health and safety measures, most of which has been at Walt Disney World, as it is the only park currently open in the United States. When you visit Disney World, you will notice the incredible detail they go into cleaning the parks and resorts. Disney World has always been "clean", but nothing compared to what it is like now. From the requirement to wear a mask for everyone in all public spaces to dedicated cleaners at the parks and resorts, they have thought of it all.
#3 – Reduced Capacity
In order to reopen last July, Walt Disney World was forced to reduce capacity at its parks. They opened at 25% capacity, and are currently at 35% (though that figure could change at any time). Currently only about half of the Disney resorts are open, and you will notice a definite difference when in the parks, there just are not as many people around.
#4 – Shorter wait times
Due to much lower capacity than normal, especially during historically busy times of the year, the wait times for most rides have been much shorter than normal. Currently, on New Year's Eve, one of the busiest days of the year, Haunted Mansion (15 minutes), Jungle Cruise (30 minutes), Expedition Everest (30 minutes) and Avatar Flight of Passage (105 minutes) are all considerably shorter than what would be expected.
Now, some rides have similar wait times as before due to spacing while loading the rides. Also, with spacing in the lines, they may seem really long compared to normal, but they move very quickly.
#5 – It is still MAGIC!
Currently, Walt Disney World is not doing fireworks or parades due to the closeness of the crowds at those events. To many, they wouldn't dream of visiting Walt Disney World without fireworks or the daily parade, but trust me, Walt Disney World is still MAGIC! Disney is fully aware of the missing magic that fireworks and parades bring, and they have stepped up and added in special events through the parks, such as Character Cavalcades (#6) and even characters in their natural state (#7) you can see throughout the parks, that you would never have seen prior to 2020.
#6 – Character Cavalcade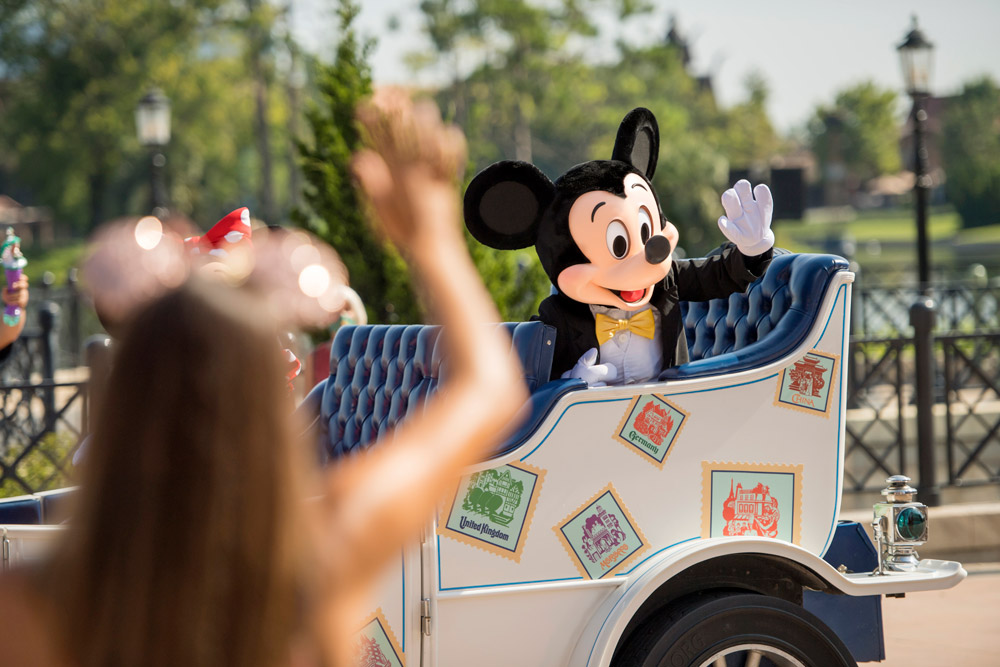 Of course, there are currently no character interactions while at Disney World, which totally makes sense. This is good on two fronts, no waiting in line with your 3-year-old for 2 hours to see a character that they don't even recognize and Character Cavalcades. Character Cavalcades are like mini parades, however, they are unscheduled, they just happen, they are smaller (typically include one float and a few characters), they are quick and magical. Everyone who has experienced a Character Cavalcade realizes that this is the future of Disney parades. Imagine seeing Merida on horseback riding down Main Street or Anna in her royal carriage.
#7 – Disney Characters
Disney used to do this years and years ago, and it has finally made a comeback in 2020, and will hopefully be around forever. Disney has placed characters throughout the parks, in their "natural" habitat. They are placed away from guests, so no meeting them, but you can see and hear them. Imagine seeing Winnie the Pooh chasing butterflies, or the evil Step Sisters heckling guest from the castle balconies. My favorite? The Country Bears come to life and appear on the balcony above the entrance to their attraction.
#8 – Book with Confidence
Currently, for any arrivals prior to the end of April 2021, you can book your Walt Disney World vacation with confidence. What does that mean? That means that any change and cancelation fees normally imposed by Disney are waived through that date. That includes anything up until the day you check-in! Decide you can't go the night before your scheduled trip? No problem, you can get all of your money back. Now that is peace of mind.
#9 – 50th Anniversary
Did you know that 2021 is Walt Disney World's 50th anniversary? Yep, the Magic Kingdom opened on October 1, 1971, which means this October 1 will be the 50th anniversary. While plans have not yet been announced for the events surrounding the anniversary, expect something BIG!!!
#10 – Disney Skyliner
While technically the Skyliner opened in late 2019, it is a reason why you should visit in 2021. Disney's Skyliner is the future of Walt Disney World transportation. While the buses and boats aren't going away anytime soon, it is obvious that more and more Disney resorts will be connected to the Skyliner system in the future. The Disney Skyliner is a gondola system, similar to what is used in ski resorts around the world. The Skyliner currently serves Pop Century, Art of Animation, Caribbean Beach and the new Riviera Resorts and connects them to Disney's Hollywood Studios and Epcot (and technically the Epcot area resorts can use the Skyliner to access Hollywood Studios, but it takes a while).
The great thing about the Skyliner in 2021 is that they limit each pod to your group only, so if you are concerned about riding on a bus with a bunch of people you do not know, you can ride the Skyliner all day with just your family.
#11 – Updated Polynesian Village Resort
Disney's Polynesian Village Resort has been closed since last March, partially due to the pandemic closure, and partially due to a complete overhaul of the common areas. The resort will feature a new monorail station, entrance, grand house interior, water areas and remodeled Ceremonial House and retail outlets. In addition to the overhaul, Disney will be adding a lot of Moana themed additions throughout the resort, from the pool and Ceremonial House to the guest rooms.
#12 – Star Wars: Galactic Starcruiser
Probably the most looked forward to addition to Walt Disney World since Animal Kingdom opened in 1998 (can it really be that long ago?!!). The Star Wars: Galactic Starcruiser is not a ride, and in reality, it is not a resort, it is a combination of the two. You will not be able to spend your entire vacation at SW:GS, you will be limited to a 2-night stay. But that 2-night stay will be fully immersed in Star Wars from check-in to check-out and will include immersive activities at the resort as well as in Disney's Hollywood Studios (the planet Batuu). Have you noticed that the rooms do not have real windows?
Disney's Star Wars: Galactic Starcruises opens in 2021, but no opening date has been announced, and reservations are not being taken yet.
#13 – Space 220
In a slightly related topic, Space 220 is coming to Epcot in early 2021. Space 220 will be a one of a kind restaurant. You will board a special elevator for a journey 220 miles above Earth to a space station where you will enjoy fantastic meals and drinks while taking in the views. While nothing about Space 220 will be Star Wars related, it will surely be the most popular restaurant in Walt Disney World for years to come.
#14 – Roundup Rodeo BBQ
You can never have too many Toy Story themed meals. Roundup Rodeo BBQ will be located in Toy Story Land in Disney's Hollywood Studios and will be hosted by Woody, of course, your favorite sheriff.
You will be surrounded by all your Toy Story friends participating in Woody's rodeo. Roundup Rodeo BBQ isn't just a restaurant, it is an immersive experience, featuring toys, games and playsets for children of all ages.
#15 – Remy's Ratatouille Adventure
Originally scheduled to open in 2020, Remy's Ratatouille Adventure has been pushed back to Spring, 2021. This is the first of three fantastic rides coming to Walt Disney World this year.
Remy's will be a unique ride at Walt Disney World, it is trackless. You board a Remy inspired mouse vehicle and see the world as the size of a rat. There is sure to be plenty of gags and surprises (the Disneyland Paris version is one of the most popular rides).
#16 – Guardians of the Galaxy: Cosmic Rewind
Another addition to Epcot, Guardians of the Galaxy: Cosmic Rewind is being constructed where Ellen's Energy Adventure used to be located. I sure hope the Universe of Energy dinosaurs survive another ride change and make an appearance. Guardians of the Galaxy will be a "family-friendly storytelling coaster". OK, well, that is new. The cars spin 360 degrees and even reverse just for takeoff. Surely Guardians will be a fun, incredible attraction, and I can't wait to ride it.
#17 – Tron Lightcycle Run
If you are lucky enough to have been to Shanghai Disneyland (I have!!!), you had a chance to experience the original Tron ride, Tron Lightcycle Power Run. The new Walt Disney World version is being built in the Magic Kingdom next to Space Mountain. Tron is easily the second-best ride in Shanghai behind Pirates of the Caribbean, and my guess is that the Walt Disney World Tron will become a park favorite. An upright roller coaster, it is everything you can imagine. Just look up a few Youtube Videos of the Shanghai version, you will be planning a trip tomorrow I promise you.
One hint, you must ride Tron during the day and again after it gets dark. The ride is partially outdoors, and the nighttime version is INCREDIBLE.
#18 – Epcot Festivals
In 2021, EPcot has announced a full schedule of festivals! Festival time at Epcot is my favorite time to go, I love all the food boths and extra activities around the park. So fun!
Epcot International Festival of the Arts – January 8 – February 22, 2021
Epcot International Flower & Garden Festival – March 3 – July 5, 2021
Epcot International Food & Wine Festival – TBD (2020 dates were July 15 – November 22, so expect similar dates once they are announced later this Spring)
Epcot International Festival of the Holidays – TBD (2020 dates were November 27 – December 30, 2020)
If you are planning a visit in 2021, be sure to include an Epcot festival, it will be worth your time.
#19 – Harmonious
Sticking with Epcot, Harmonious is scheduled to launch this year. Harmonious is Epcot's sequel to Illuminations, the super-popular fireworks show. Harmonious however is completely different, featuring daytime effects (water fountains and lights) and a nighttime show bigger and better than anything Illuminations even considered doing. Watch for Disney characters to be included in the show as well as lasers, fireworks, LED lights and musicians from around the World Showcase.
#20 – Easy to plan last-minute trips
With the health and safety changes made at Walt Disney World, some of the changes alter when you can and should book your Disney vacation. To ease planning, Walt Disney World has changed the dining booking window to 60 days prior to check-in, which makes last-minute trips much easier. Plus, FastPasses currently do not exist in the Disney World lexicon, so no need to make those reservations months in advance.
As long as there are park reservations available for your travel dates, you should be able to plan right away.
#21 – Discounts
Of course, with fewer people going to Disney, discounts are available and better than ever. The current discount for early 2021 features 35% off your favorite Disney resort (as long your favorite resort is one of the ones that are open). We are expecting another discount this week featuring 2 free days in the parks, and many more to come. There hasn't been a cheaper time to visit than in 2021.
2021 Walt Disney World Winter Discount
There you go, 21 great reasons to visit Walt Disney World in 2021. Plus, I didn't even mention some great attractions that opened in 2020 that you likely missed such as Mickey & Minnie's Runaway Railway, new Epcot films (Canada, China and Awesome Planet) and Star Wars: Rise of the Resistance! So many new things!!!
As mentioned above, for extra peace of mind, know that if your plans change, any Disney-imposed change and cancellation fees will be waived up to the date of check-in for reservations with arrivals through April 30, 2021.
If you would like more information about traveling to Walt Disney World in 2021 or would like to check on some options and prices for a vacation. please feel free to contact us for a free, no-obligation Mouseketrips quote.