It's well known that one of Walt Disney's chief frustrations with the Disneyland Resort property in Anaheim, California, was the lack of real estate he had to work with. The 160 acres of former orange grove that now makes up the Disneyland Resort was all that Walt could afford to purchase back in 1953, and the lack of space to expand and imagine was a continual sore spot with Walt and continues to be a concern for the Walt Disney Company to this day.
One of the most poignant indicators of this lack of space is the limited number of Disney owned and operated hotels at the Disneyland Resort. While Walt Disney World in Florida currently boasts 22 different Disney owned and operated resort hotels and an RV/campground resort, the Disneyland Resort is home to only three Disney owned hotels:
The original Disneyland Hotel, which opened in 1955 (well, actually it was the much smaller Disneyland Motel that opened in 1955 before it was dramatically expanded to become the Disneyland Hotel. Also, it was originally built, owned, and operated by the Wrather Corporation under a somewhat desperate 1955 agreement made between a cash-starved Walt Disney and Jack Wrather. Disney didn't gain ownership and control of the hotel until 1989. Anyway…)
Disney's Paradise Pier Hotel (which used to be owned by the Pan Pacific Hotel chain and was called the Pan Pacific Anaheim-Disneyland. Disney purchased this hotel 1996 and renamed it the Disneyland Pacific Hotel, and then renamed it again with the opening of Disney California Adventure and Downtown Disney to Disney's Paradise Pier Hotel),
The crown jewel of the Disneyland Resort hotels – Disney's Grand Californian Hotel (which was built at the same time as Disney California Adventure and is still the only resort hotel to reside "inside" a Disney theme park).
While these are all wonderful properties, they certainly cannot by themselves handle the huge crush of guests that visit the Disneyland resort. Disney realized long ago that it could not possibly accommodate everyone who wanted a hotel room for a visit to Disneyland, and thus created the Good Neighbor Hotel program.
The Disneyland Good Neighbor hotel program recommends accommodations at non-Disney owned hotels that surround the Disneyland Resort. In order to be included in the Good Neighbor program, hotel properties have to adhere to a strict standard of quality in appearance, lodging, and service as set by Disney. Every property is regularly inspected by Disney, and will be removed from the Good Neighbor program if any of the standards are found lacking.
While they certainly do not have the quality of service of the Disney hotels, these properties have worked extremely hard to earn Good Neighbor status and put a huge amount of effort into maintaining the designation. Good Neighbor hotels can be booked directly through Disney reservations and can include the Good Neighbor Magic vacation package that adds park passes, priority seatings, and other special perks not available to travelers not booking through Disney. As you can well imagine, this is a huge benefit to the owners of these properties, and they'll do anything they can to earn and maintain a Good Neighbor designation.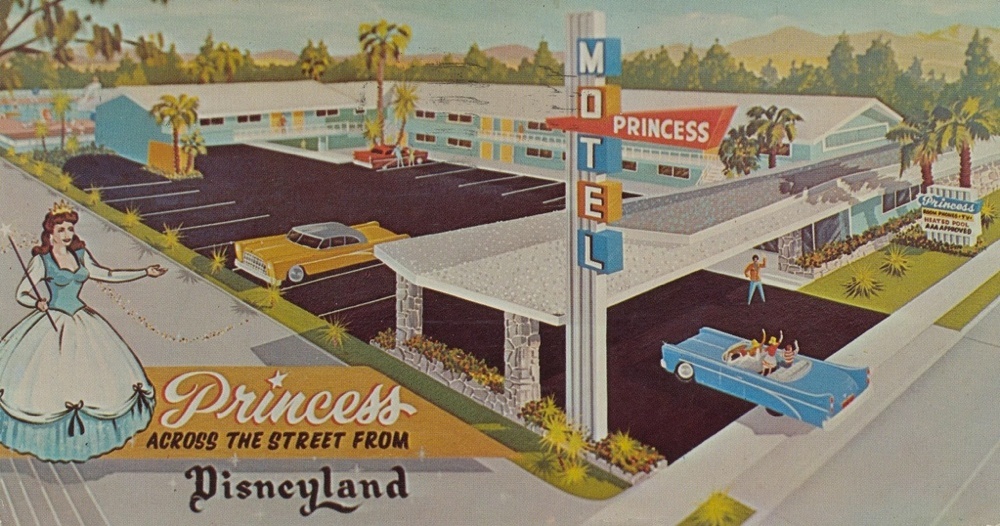 Unfortunately, the Princess Motel does not exist anymore, but there are plenty of other great options for you. The Good Neighbor hotels are divided into four classifications based on the size and/or quality of accommodations: Superior, Moderate, Economy, and Suites.
Superior
Superior hotels offer the best service and accommodations. Rooms are generally larger and better appointed. Most properties offer amenities such as room service, concierge, and complimentary transportation to the Disney parks.These properties are all name brand, national chain hotels that I'm sure you've heard of. You can't really go wrong with any of them, as each offers quality accommodations and they all seem to work hard to maintain their company image.
Moderate
Moderate properties, by far the largest category, offer good quality rooms at more moderate prices. These hotels have upgraded furnishings and amenities, and offer a very good value for the money. Most offer the advantage of close proximity to the parks, with many in walking distance. A wide variety of properties in this category offer something for every traveler. Some offer convenience over quality with locations right across the street from Disneyland. Some offer higher quality service and accommodations at a lower price. Most properties will offer some sort of complimentary breakfast.
Economy
These properties are what they are – a clean, comfortable place to rest your head between park visits. They don't pretend to be the Ritz in any way, but they are a very good value and can't be beat if you're on a budget. For those just looking for a good, clean, comfortable place to sleep, the Economy properties are a very good choice. They are short on services and amenities, but are perfect for the traveler who plans on spending the maximum amount of time in the parks and just wants a place to crash.
Suite
These hotels offer everything from junior suites, which are a large standard hotel room with a half-wall separating the "bedroom" area from the "living" area, to full 2-bedroom, 2-bathroom suites with kitchen facilities. Suite properties offer the convenience of sleeping up to 8 people in one room and are generally more upscale and desirable hotels. It's often wise to look at a suite property if you are traveling with a large family or group – the cost per person for a suite can come out to be less than the cost of several individual hotel rooms at an Economy hotel and you get the advantages of the more upscale hotel.
So there you have it – Disneyland Resort's Good Neighbor hotels. When visiting Disneyland, our first preference and recommendation is, of course, to stay at one of the Disney hotels. There's just nothing like the magic and atmosphere of being immersed in the Disney magic 24 hours per day. However, if availability or budget doesn't allow a Disney resort for your vacation, the Good Neighbor hotels are a great second choice. Your Mouseketrips Travel Expert will have many more details on each of the Good Neighbor hotels and can assist you in selecting the property that's perfect for you, your family, and your budget.
Mouseketrips is a Disney only travel agency. We specialize in booking Disney vacations for families all over the World. Contact Mouseketrips for a free, no obligation Disney Price Quote for your upcoming Disney vacation.