If you are a Disney fan, you have to visit Disneyland at least once in your life. If you haven't been to Disneyland yet, 2018 is the time to go. There are so many new things happening, this is a great time to pack up the family wagon and head West to Anaheim. Want to see why? Here is our top 10 reasons that you need to visit Disneyland this year.
#10 – New Paint the Night Parade
The fan-favorite "Paint the Night" parade at Disney California Adventure Park gets even more super this June with the addition of a new float inspired by Disney•Pixar's "The Incredibles" and "Incredibles 2." The epic Parr family and their pal Frozone make their first appearance in this electrifying parade, bringing all of the fun and excitement of "The Incredibles" to life with high-tech, pop-art effects inspired by the mid-century modern style of the films.
Mr. Incredible, Mrs. Incredible and Frozone showcase their super skills as they take on their latest threat, The Underminer. Mr. and Mrs. Incredibles' teen daughter Violet, along with their sons Dash and Jack-Jack, also showcase their unique powers in surprising new ways, as shown through dynamic and innovative visual technology. Like other elements in this spectacular parade, the new float comes to life through a series of dazzling LED lights, new music elements and more.
#9 – New Downtown Disneyland Venues
The Downtown Disney District at the Disneyland Resort is continuing its ambitious, promenade-wide transformation in 2018. Multiple new venues and significant refurbishments to marquee dining and retail locations, including the World of Disney store, will be completed throughout the year while Downtown Disney remains open to guests. The result will be a fresh, one-of-a-kind Disney experience, immersing guests by day and night in the greatest mix of family-friendly dining, shopping and entertainment. New additions include:
Ballast Point Brewery – They will open their first Orange County location in Downtown Disney later this year. Ballast Point pairs award-winning beers with an extensive menu of Southern California cuisine—salads, small plates, flatbreads and entrees featuring local, sustainable and seasonal ingredients. In addition to Ballast Point's iconic beers, including its flagship Sculpin IPA, the location will serve exclusive, limited-edition beers available only at Downtown Disney. The space will house Downtown Disney's first-ever on-site brewery, as well as a tasting room, kitchen and outdoor beer garden.
Star Wars: Secrets of the Empire by ILMxLAB and The VOID –  The hyper-reality experience transports guests deep into the Star Wars universe, allowing them to walk freely and untethered throughout the space. In groups of four, teams go undercover as stormtroopers to capture Imperial intelligence vital to the budding rebellion's survival.
Disney Home –  Just opened! This popular new retail store offers fans a variety of Disney-themed home goods from glass wear to linens, kitchen goods and more. At Disney Home, guests find a curated assortment of products that change with each season.
Splitsville Luxury Lanes –  A dynamic recreation destination, offers a unique combination of dining, drinks, bowling and entertainment. Now open, the Downtown Disney District location features 20 bowling lanes interspersed throughout two floors, four dining areas (indoors and out), more than 25 flat screen TVs and live entertainment 365 days a year.
World of Disney – will be reimagined into a new, dynamic and distinctly Disney retail environment. The flagship store will remain open to guests for shopping during the majority of the refurbishment, with work expected to be completed in phases throughout 2018. World of Disney will continue to offer the largest selection of Disney toys, souvenirs, accessories, collectibles and more at the Disneyland Resort.
Naples Ristorante e Pizzeria –  will undergo renovations to expand its patio with a new outside bar and additional seating for al fresco dining. Inside, three wood burning ovens will be installed to better meet guests' demands for authentic Napoletana-style pizza pies. The restaurant will remain open throughout construction, which is slated to be completed in fall 2018. In addition,
Napolini – Naples' fast-casual concept, will also remain open, serving breakfast, lunch, and dinner. Napolini will undergo renovations during the latter part of construction.
Black Tap Craft Burgers & Beer will open its first California location in the heart of Downtown Disney District later this year. Known for its award-winning burgers and signature CrazyShake™ milkshakes, Black Tap will offer a casual atmosphere reminiscent of a modern luncheonette, with a distinctly New York vibe.
#8 – Pixar Food
I love themed food! This Summer, there is Pixar themed food everywhere!
"Up" on Main Street U.S.A.
The fried bologna sandwich at Carnation Café
The pork chop dinner, reminiscent of Carl's TV dinners, with a spiced apple pork chop, cornbread, peas and carrots, and a chocolate cake dessert at Carnation Café
Specialty Éclair at Jolly Holiday Bakery Café
Frozen "Grape Soda" slush at Cappo Cart
"Coco" in Frontierland
"Coco"-inspired menu items at Rancho Del Zocalo include a Mexican chocolate pot de crème, topped with a Miguel chocolate
Coco Churro with rich chocolate powder, vanilla bean and salted cinnamon sugar is served with a spiced, Mexican chocolate dipping sauce
"Toy Story" in Frontierland
Root beer float served in a souvenir Woody boot at Golden Horseshoe Saloon (guests will want to check the bottom of the boot for a "Toy Story" memory)
Berry funnel cake, topped with blueberries, strawberries, cookie-and-cream crumbles, crème anglaise, white chocolate and gold-dusted whipped cream at Stage Door Café
Cinnamon pretzel at Frontierland Pretzel Cart
"Toy Story" in Tomorrowland
Redd Rockett's Pizza Port transforms into Alien Pizza Planet, featuring new Alien-inspired items, including a hearty cheeseburger pizza topped with cheese, caramelized onions, diced tomatoes, slider patties, a house-made burger sauce, and pickles.
"Ratatouille" in New Orleans Square
A three-course dinner inspired by the little chef, Remy, served at Café Orleans. The dinner features a charcuterie plate starter, Ratatouille a Confit Byaldi Shrimp dish entrée and berry and cheese beignets served a la mode.
"Monsters, Inc."
Chilled noodle salad features color-changing noodles with mint, Thai basil, shredded daikon and tofu at Lucky Fortune Cookery (special sauce activates the new color)
Mike Wazowski-shaped sourdough bread at Pacific Wharf Café
Mint chip smoothie and whoopie pie at Schmoozies
 "Coco"
"Coco"-inspired menu at Paradise Garden Grill, in the Pixar Pals area, with mole verde con pollo, tacos de estilo callejero, a Jamaica slush and "Coco" tres leches parfait
Also featured at Paradise Garden Grill is a Mexican cinnamon-spiced hot chocolate served in a souvenir "Coco" jarrita
Cars Land
Starting May 16, a new menu at Flo's V8 Café for Pixar Fest will feature items such as a classic cheeseburger, turkey club sandwich, cobb salad, fried chicken plate and more.
Habanero meatball cone at Cozy Cone Motel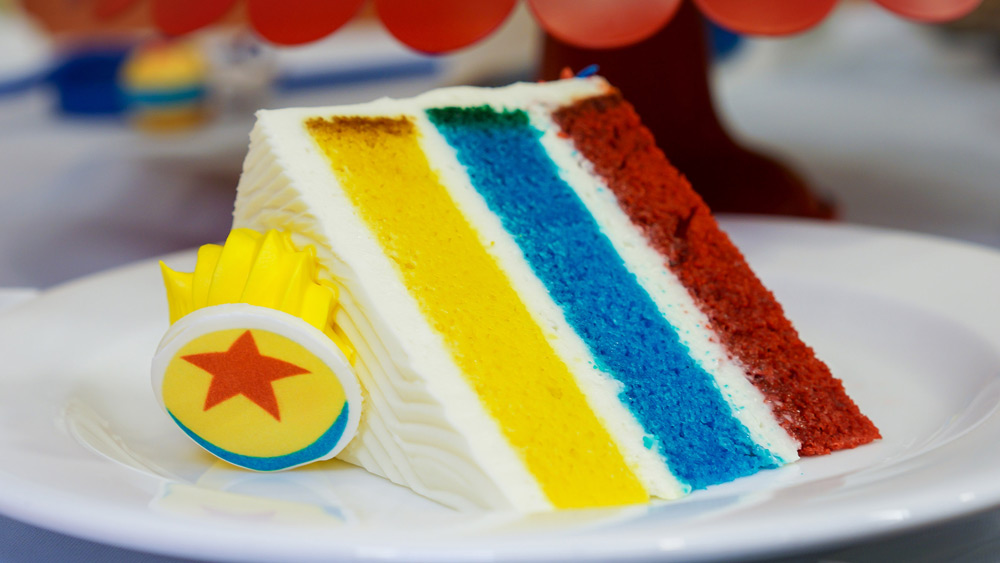 #7 – New Pirates of the Caribbean
Since its debut at Disneyland Park in California in 1967, Walt Disney's Pirates of the Caribbean adventure has thrilled hundreds of millions of guests from around the world. An immersive and engaging entertainment experience, it's steeped in detail and rollicking pirate fun. It debuted as a technological marvel and storytelling masterpiece and, for decades, this award-winning attraction has been considered one of the pinnacles of theme park experiences worldwide.
The original Pirates of the Caribbean attraction, which inspired a global phenomenon and launched a highly popular film franchise, adds new magic in 2018 as guests discover a swashbuckler caught in a booby-trap. Fans of the attraction's early days may also recognize a familiar voice as a pirate shares the cautionary tale of a cursed treasure. And the familiar redheaded figure among the townspeople has switched sides to become a pirate known as Redd, who pillages the town's rum supply.
#6 – Heroic Encounters
In Hollywood Land, guests will have the opportunity to meet some of their favorite Marvel super heroes. Fans will be able to encounter characters such as Thor and Loki, as well as Black Panther, for a limited time. Additional Marvel super heroes including Spider-Man and Captain America will also be available throughout the year to interact and take photos with guests.
#5 – Pixar Play Parade
"Pixar Play Parade" returns April 13 for Pixar Fest at the Disneyland Resort, bringing even more Pixar stories to life during the limited-time celebration. For the first time, "Pixar Play Parade" makes its way through Disneyland Park daily and three new story elements add even more playfulness to this interactive, daytime parade.
The parade begins just as all Pixar films have, with an appearance by the iconic and adorable Pixar Lamp and Ball from the Pixar original short, "Luxo Jr." Also joining "Pixar Play Parade" are characters and scenes from the beloved Disney•Pixar film, "Up." Wilderness Explorer Russell appears astride the colorful flightless bird, Kevin. Carl Fredricksen and Dug follow behind, amid green foliage and Kevin's chicks, with Carl's tethered house floating above. Another popular Disney•Pixar story joining the "Pixar Play Parade" is "Inside Out." Perched atop colorful memory orbs, Joy and Sadness take flight aboard Riley's rocket wagon, with Bing Bong himself cheering them on.
In addition to these exciting new elements, "Pixar Play Parade" brings back some beloved Pixar pals from the exciting and colorful worlds of Disney•Pixar's "Toy Story," "A Bug's Life," "Monsters, Inc.," "Finding Nemo" and "The Incredibles." This energetic, immersive parade inspires guests of all ages to sing and dance along with acrobatics, high-energy choreography, interactive surprises and lively bubble and water effects.
#4 – New Pixar Pier
The newly reimagined land features the thrilling Incredicoaster and Pixar Pal-A-Round attractions, imaginative neighborhoods, Lamplight Lounge and additional food locations inspired by Pixar films, plus exciting entertainment, character encounters and more. Guests will experience the wonderful worlds of Pixar in incredible new ways on this seaside waterfront at the Disneyland Resort.
At Pixar Pier, guests will enter the newly reimagined land at Disney California Adventure through the dazzling Pixar Pier marquee – topped with the iconic Pixar lamp later this year. Beloved Pixar stories are introduced in this land through four whimsical neighborhoods.
The first neighborhood is Incredibles Park, inspired by Disney•Pixar's "The Incredibles," and it opens with the Incredicoaster. Permanently transformed from the attraction that was California Screamin', Incredicoaster invites guests into a mid-century-modern-style loading area where they will board vehicles with a distinctive, new look. New character moments, new scenes and special effects, and an exciting musical score connect the attraction's story to Pixar's "Incredibles 2".
Adjacent to Incredibles Park is Toy Story Boardwalk, a neighborhood that includes the popular Toy Story Mania! attraction, with Jessie's Critter Carousel coming in 2019. Another new neighborhood is Inside Out Headquarters, inspired by Pixar's "Inside Out," where another new family friendly attraction will open at a later date.
The fourth neighborhood, Pixar Promenade, celebrates a collection of guest-favorite Pixar stories. The iconic Fun Wheel transforms into the newly themed Pixar Pal-A-Round, allowing guests to enjoy the beautiful sights of Pixar Pier from 24 freshly-decorated gondolas – each one adorned with beloved Pixar pals.
Another exciting location is the new Lamplight Lounge, an elegant yet fun gathering place for the entire family at the entrance of Pixar Pier. Lamplight Lounge will serve a new menu of California casual gastro-pub cuisine that is playfully presented, along with unique signature cocktails. The seaside lounge will contain a full bar with picturesque waterfront views of Paradise Bay from both upstairs and downstairs.
Lamplight Lounge celebrates the creativity, inspirations and personalities of the artists and storytellers who have brought Pixar stories to life. Guests will discover the artistic marks that Pixar "regulars" have left throughout the lounge, including concept art, a quick sketch on a coaster, memorabilia and collectible toys of beloved Pixar characters.
#3 – Together Forever
"Together Forever" celebrates friendship and connects guests to beloved Pixar characters and stories as it lights up the sky over Disneyland Park. Dazzling pyrotechnics, immersive projections, colorful lasers and memorable music are part of the storytelling in this unique multimedia show.
Buzz Lightyear, more than 300 green Space Aliens, 10-foot-tall "Coco" characters from the Land of the Dead and many more Pixar favorites star in the newest fireworks show at the Disneyland Resort.
"Together Forever" connects guests to beloved Pixar stories as it lights up the sky over Disneyland Park. It comes to life with pyrotechnics, special effects, a new musical score and projections on iconic park locations: Sleeping Beauty Castle, the water screens of the Rivers of America, the façade of "it's a small world" and the buildings of Main Street, U.S.A. The grand tradition of Tinker Bell flying over Sleeping Beauty Castle also gets a Pixar twist, with a special flyover by Buzz Lightyear.
#2 – Star Tours – The Adventures Continues
A thrilling new adventure inspired by the film, "Star Wars: The Last Jedi," has landed at Star Tours—The Adventures Continue. The new sequence takes passengers to two exciting new destinations: Crait, the site of an epic battle in "Star Wars: The Last Jedi" and Batuu, the remote outpost guests will discover when Star Wars: Galaxy's Edge opens at Disneyland in 2019.
#1 – Incredicoaster
The thrilling Incredicoaster opens in late June, bringing guests the first ride-through attraction in the world to feature characters from Disney•Pixar's "The Incredibles." Anchoring the newly reimagined land of Pixar Pier, the Incredicoaster takes guests on a super adventure with the Parr family to capture the elusive baby Jack-Jack. Exciting character figures, special effects, lighting, new music and distinctively colored vehicles make the thrills on this coaster even more incredible.
Guests will step right into the world of "The Incredibles" as they discover they've been invited to the inaugural launch of the new Incredicoaster. In gratitude for their heroic efforts and incredible deeds, the citizens of Municiberg are dedicating their beloved roller coaster to the Incredibles. Of course the family of supers are attending – Mr. and Mrs. Incredible, Violet, Dash and Jack- Jack – along with Edna Mode (exclusive super suit designer to the Incredibles).
With Edna and Jack-Jack being too short to ride the Incredicoaster, they have to wait for the rest of the Incredibles inside the VIP inauguration lounge. Things go awry, however, when the unpredictable Jack-Jack vanishes from Edna's not-so-watchful eye. As a polymorph with a wild variety of powers, Jack-Jack creates chaos along the track while his Incredible family sprints into action to save the day.
Are you thinking about a trip to Disneyland this Summer (or possibly this Fall)? Contact us here at Mouseketrips, we can help you with all of your Disney planning needs, and can even make sure you get the best possible price, at no additional cost to you.
Are you thinking about a trip to Disneyland this Summer (or possibly this Fall)? Contact us here at Mouseketrips, we can help you with all of your Disney planning needs, and can even make sure you get the best possible price, at no additional cost to you. Please feel free to contact us for a free, no obligation Mouseketrips quote.

The following two tabs change content below.
Mouseketrips is a Disney only travel agency. We specialize in booking Disney vacations for families all over the World. Contact Mouseketrips for a free, no obligation
Disney Price Quote
for your upcoming Disney vacation.
Latest posts by Mouseketrips (see all)